ENGLISH
IPEX 2017 exhibitors reflect on its success and plans for the future
Monday, 13 November 2017
606
Post IPEX 2017, exhibitors have reflected on the past week at the NEC and their successes at the print industry's event. Exhibitors which showcased their latest products and technologies have responded with their thoughts on the exhibition and the future of IPEX.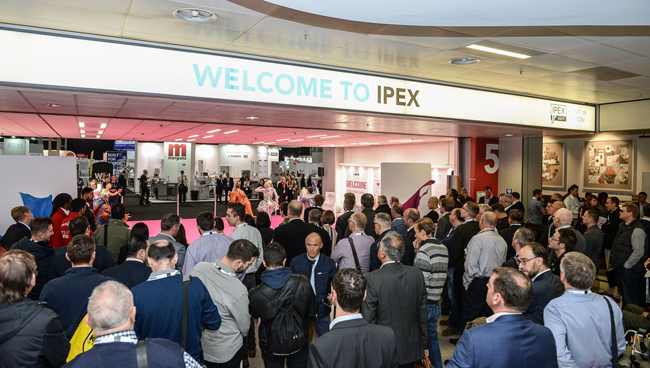 Bob Usher, Managing Director at Apex Digital Graphics comments, "Apex had an excellent show with the stand demonstrations blocking the isle every 90 minutes. We have consequently signed orders and moved many prospects further forward to a closing position." 

Bryan Godwyn, IFS Managing Director adds, "We are really delighted. IPEX has done a great job and we have worked hard to put on a great show for the visitors. I am genuinely pleased with it."

He continues, "We were pleased with customer loyalty in supporting this event and the quality of visitors who came. We are also excited about the amount of business we have been able to sign. We look forward to announcing more on those sales successes in due course. We have also made some great contacts."

Renz showcased its expanded portfolio of high performance finishing systems with the Argos F400 "Cold Lamp" LED UV Coater, super quick Bindomatic Accel Ultra and the Bindomatic Accel Cube thermal cover binding machines at IPEX.

Iain Bullock, Renz UK Managing Director says, "The quality of leads we have had have been very good. We have met many existing customers who have all come to see the latest additions to our portfolio. We have been very happy with the order value we have taken. It was great to be back and the NEC and, for us, it was a good show." 

Sarah Large, Marketing Manager at Woodrow Mercer comments, "IPEX was a successful show for us as we met a good variety of genuinely interested visitors. It was a positive event and we are glad to have been part of it."

Peter Swann, Digital Systems Sales Manager at Presstek adds, "On our Presstek stand we received lots of new leads from the UK and abroad."

Richard Maclean, Director at Engelmann & Buckham comments, "I can report that Engelmann & Buckham had a very successful IPEX selling a number of machines from the stand including a SITMA SM10 envelope enclosing machine, rotary split feeders, a number of inc.jet systems and Integra Lifting Belts. We were also regularly demonstrating the C.P. Bourg Book Binder and have a number of contacts to follow up from this. For our new Principal's VITS and Graph Tech we also have a large number of new leads to follow up, so hopefully we will have more good news to come!"

Event Director, Rob Fisher concludes, "I believe that the favourable feedback and quality of visitors that attended IPEX reflects positively on the overall success of the event. We wanted the exhibition and our theme of 'Print in Action' to offer a unique, colourful and memorable experience for all. We have delivered a ground-breaking collaboration with the London College of Fashion and provided visitors with over 30 hours of unique and informative conference sessions. The feedback we've had from exhibitors and visitors indicates that we have achieved this, bringing a fresh outlook to the traditional print exhibition experience. Moving forward, we will further consult with the industry and hope to be in a position to announce our plans for IPEX in the new year."


Suscríbete a nuestra newsletter
x
Mantente informado de las novedades, noticias y eventos de las Artes Gráficas.
Esta web utiliza cookies para obtener datos estadísticos de la navegación de sus usuarios. Si continúas navegando consideramos que aceptas su uso. X Cerrar