ENGLISH
Promis JSC reduces production mismatches with the Pantone Certified Printer Process
Thursday, 26 October 2017
791
A 38.7 percent reduction in production mismatches leads to an 8 percent improvement in overall productivity.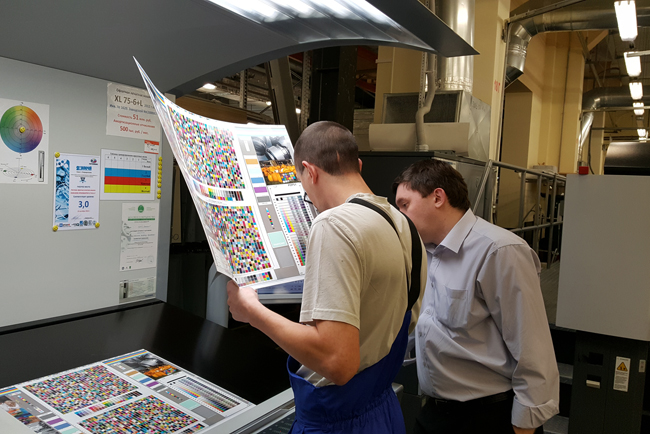 X-Rite Incorporated reported that Promis JSC, based in Nizhny Novgorod, Russia, has recently undergone a recertification process to maintain its PANTONE® Certified Printer status. Promis JSC, the first Russian and European folding carton packaging printer to be UGRA PSO (Process Standard Offset) and a Pantone Certified Printer, produces more than 922 million packages per year and works with leading brands such as P&G, Serdix, Roche, Stada, Sanofi Aventis and KRKA.

The PANTONE Certified Printer Programreviews and analyzes every aspect of a printer's color operations – from preflight, to file preparation and proofing, to ink formulation and mixing, and to process control in the pressroom. Promis JSC's certification confirms the company's ability to consistently achieve the most stringent customer color requirements, efficiently and cost effectively.

Promis JSC received its first PANTONE® Certified Printer status in 2013. Over the past four years the company has continued to invest in new production print and color management technology as well as implement Standard Operating Procedures (SOPs) in order to improve efficiencies. As a result, the company has experienced:

38.7 percent reduction in production mismatches;
29.5 percent decrease in rework;
48.3 percent decrease in die-cutting claims;
39 percent decrease in bindery claims; and
13.6 percent decrease in external manufacturing defects.

"High quality pharmaceutical packaging is a technically demanding market space," Evgeniy Slinjakov, CEO, Promis JSC. "Being a Pantone Certified Printer has helped us improve our production workflow, better communicate color internally and externally, and position ourselves as experts in the eyes of our customers."

Promis JSC Builds a Digital Color Workflow

X-Rite experts regularly evaluate Promis JSC manufacturing facilities to ensure continuous improvement and compliance with the company's established standard operating procedures (SOPs). Slinjakov points out that having the right SOPs, technology and employee education in place is critical, and developing those is a benefit of the Pantone Certified Printer Program.

"We have built a more efficient and accurate means of communicating color as a result of the Pantone Certified Printer Process. Today, 80 to 90 percent of our color workflow is based on digital data exchange," commented Slinjakov.

Promis JSC uses a CxF color exchange workflow and is PantoneLIVE™ enabled, instilling new confidence in customers that color will be right every time. The company uses X-Rite InkFormulation Software to achieve accurate ink color the first time, automate recipe formulation, and link to PantoneLIVE to retrieve color standards. Promis JSC ink room professionals use X-Rite ColorCert Inkroom to evaluate color quality of formulated inks based on jobs created in ColorCert Manager or self-created color standard definitions.

To improve the platemaking process, Promis JSC uses X-Rite iCPlate2XT which provides a superior object recognition algorithm for standard plate reading applications and uses camera optics illumination system to ensure plates are right before they are mounted on press. Promis JSC also employs three X-Rite Judge II light boxes to ensure color is evaluated under a variety of controlled lighting conditions. Next year, the company plans to upgrade its existing X-Rite spectrophotometers to X-Rite eXact devices and an i1iO2 Automated Scanning Table for hands-free test chart reading.

www.xrite.com/pantone-certified-printer-program


Suscríbete a nuestra newsletter
x
Mantente informado de las novedades, noticias y eventos de las Artes Gráficas.
Esta web utiliza cookies para obtener datos estadísticos de la navegación de sus usuarios. Si continúas navegando consideramos que aceptas su uso. X Cerrar