ENGLISH
Durst Offers Dual-Purpose 3,2m Printing System for Direct-to-Textile and Transfer Printing
Tuesday, 25 October 2016
1190
Durst, the industrial inkjet specialist, launches the new 3,2m wide Rhotex 325 – an eco-friendly, dual purpose printing system that combines direct-to-textile printing and transfer paper printing technology, at the current Textile Printing Show EXINTEX in Puebla Mexico, October 18 – 21, 2016.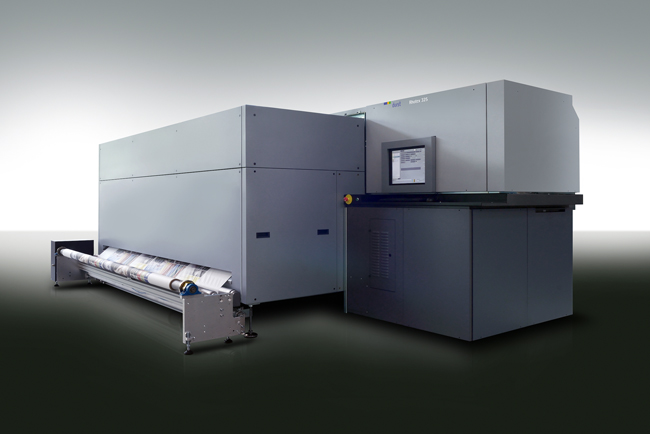 The Rhotex 325 provides printing solutions for multiple markets, as well as dual technologies, covering Soft Signage (flags, banners, back-lit displays), Home Textiles (table cloths, bed linen, upholstery) and Clothing (sportswear, T-shirts, accessories). With the revolutionary new Durst WTS printhead technology, the Rhotex 325 achieves exceptionally high-quality print output using water-based, environmentally friendly, 100% VOC free Durst Dye-Sub Inks at POP production speeds of 170m2/h (1,800 sq.ft./h) up to 350 m /hour (3,700 sq.ft. /hour).  The robustly built Rhotex 325 is equipped for unattended 24/7 productions.

"We are very pleased to be offering such a flexible, ecological system," says Christoph Gamper, CEO Durst Group. "The Rhotex 325 offers high print speed on a wide array of materials, and further extends that flexibility with direct or transfer methods; all with our new eco-friendly water-based solution. We will be displaying samples printed via both methods on a range of desirable fabrics at Exintex."

Rhotex 325 Key Features

- New 3.2 meter wide reliable transfer- and direct to textile printing system with excellent image quality at POP production speeds of 170m2/hour up to 350m2/hour.
- No media pre-treatment and finishing process needed.
- 100% VOC-free and environmental friendly, water-based dye sublimation inks for transfer paper and direct to textile printing.
- Special designed new Durst WTS printhead technology with accurate dot placement and high production speeds.
- Very low ink consumption.
- Industrial printing system, designed for continuous 24/7 production for:
- Soft-Signage applications: Wall Decorations, Flags, Banners, POP Graphics on stretch media, high quality backlit displays for lightboxes and high quality indoor- and outdoor graphics
- Home Textiles: Bed Linen, Upholstery, Table Cloths.
- Clothing: Sports Wear, T-Shirts, Accessories.
- Built-in hot air drying system up to 110°C (230°F), designed for high production speeds and constant drying over the entire 3,2m media width.
- Special media transport system designed for transfer paper- and direct to textile– printing and built-in automatic printhead cleaning system for continuous production.
- Easy media handling and user friendly touch screen software, designed for continuous production with Print Queue and Hot Folders, management functions and remote monitoring capability via web interface.
- Powerful production workflow with Caldera GrandRIP+ Server, including live spooler, Easy Media Software.

Durst will be presenting its new printing system at EXINTEX 2016, stand 2124 – 2129.


Suscríbete a nuestra newsletter
x
Mantente informado de las novedades, noticias y eventos de las Artes Gráficas.
Esta web utiliza cookies para obtener datos estadísticos de la navegación de sus usuarios. Si continúas navegando consideramos que aceptas su uso. X Cerrar